Monthly Newsletter October 2017
Food Action Updates
Washington Highlight
Faces of our Food System
Monthly Action

News You Can Use
Book of the Month
Monthly Question
Upcoming Events
October has been a month of change for Food Action! We have been winding down from an action-packed September with two fabulous events: the launch of our Good Food Agenda and our annual Harvest Dinner. We also had to say goodbye to two of our awesome team members, Pete and Arianna, who have moved on to new opportunities. Pete is pursuing wilderness therapy in Hawaii and Arianna is now Editor and Public Affairs Specialist at PCC. We are certainly sad to see them go, but also enthusiastic about two new team members joining us!
After a few deep breaths to celebrate an eventful Fall, Food Action is diving head first into putting our Good Food Agenda into action. The first step is launching our campaign to ban Frankenfish in Washington State. These fish, created purely for profit, include DNA from wild Chinook salmon and an eel-like fish fused and injected into Atlantic salmon. The "salmon" will grow to full size in half the time of a wild fish. We believe that GE salmon do not belong in our state or on our plates. Now we are gaining momentum and partners in the fight against GE salmon. But we can't do this alone!
Photo credit: NY Times
Stay tuned for more information on what you can do to get involved. We are passionate about preventing GE salmon from entering Washington, and we hope you'll join us!
How Washington Farmers Safeguard Migrant Workers
"According to the most recent Washington State Farmworker Survey, almost half of the farm workers in the Skagit Valley are migrants from Mexico. They play a major role in the region's $300 million agricultural industry, as experienced field workers, irrigation specialists, seed experts and mechanics.
But they also face increased threats under new leadership at the federal level — threats that have forced farmers like De Vries to get creative."
Ray De Vries, owner of Ralph's Greenhouse near Mt. Vernon, has taken steps to improve job security for migrant farm workers in the Skagit Valley. By working with other farmers in the area to coordinate crop harvests and scheduling, De Vries helps to ensure that workers and their families do not have to move elsewhere for their next job. Read more about how this benefits farmers, workers, and the Washington food system here.
Photo credit: KCTS9
Philip Lee
Co-founder and Publisher of Readers to Eaters
With over 25 years of publishing experience, Philip Lee has found his passion in community building through food literacy. His publishing company Readers to Eaters, co-founded by Philip and his wife June Jo Lee, publishes stories about food. The children's books seek to engage adults and children in conversations about what and how we eat. "Our simple mission is to promote food literacy, but it's really literacy through food," explained Philip. "I'm still an educator at heart and when we publish something that we all do every day - eating - it's a great way for parents and kids to start reading together. It's a universal experience."
Previously, Philip was the co-founder and publisher of Lee & Low Books, which focused on multicultural children's literature. He was troubled by the achievement gap in schools and wondered if it was because children's books failed to reflect the diversity of children. But when he approached state-level public instruction and policymakers, they told him the real fight was a public health problem. "Students were missing classes because of poor health. How do we get them to stay in school and pay attention when they're hungry or on a sugar rush?" he wondered.
Philip was struck by how many parallels he found between the food system and the publishing world. On a national level, we know a small number of food manufacturers control the majority of the food system. Similarly, there are five publishers in New York that control 85% of the market for books. On a local scale, he sees connections between books and food that others may overlook. Libraries host farmer's markets in their parking lots and markets highlight education around healthy food, yet these groups don't realize that they're linked. "I went to the Washington Library Association and said, 'Did you know you're becoming a food hub?' And it's just something they do, they don't even think about being part of the food community," remarked Philip. "In fact, they are a very crucial part of the community."
Photo: The Food Literacy Month Proclamation from Governor Jay Inslee. Credit: Philip Lee.
Building a community around food literacy is one of Readers to Eaters' great accomplishments in the Seattle area. Philip enthusiastically told the story of Governor Jay Inslee declaring September Food Literacy Month in 2015, and each year since then. Readers to Eaters' celebration of the declaration brought together key players from the food literacy arena. "At our first event, the heads of Seattle School Libraries, School Gardens, and School Nutrition met each other for the first time. And they work in the same building!" he exclaimed. "Those are the things that I'm so proud of."
When asked about what they hope to achieve at Readers to Eaters, Philip was clear that parents are the key to systemic change. In addition to educating children about food, Philip and June are creating social change by engaging parents. "Parents will change their eating habits because of their kids," Philip explains. "If it makes sense to parents, then it becomes much easier policy to push forward." Their hope is to continually engage new people. "We all eat, so we all have a connection to the conversation."
Interested in being a Food System Face or know someone who should be? Email us at foodsystemfaces@foodaction.com to nominate yourself or someone you know!
Are You Committed to Meatless Mondays?
Last week, the New York City DOE announced that 15 Brooklyn public schools would be participating in Meatless Monday, where cafeterias serve only vegetarian meal options each Monday. By committing to this initiative, NYC joins Los Angeles, Miami, Detroit, and San Diego, among other U.S. cities.
All around the world, governments are searching for ways to persuade people to stop eating meat. Argentina's presidential palace has instituted meat-free Mondays, Portugal passed a law requiring vegan options at public institutions, and the UN's International Resource Panel has called for governments to tax meat products.
This month, we're challenging you to participate in Meatless Mondays. By reducing your meat consumption you reduce your carbon impact and water usage, and cast a vote with your dollar to reduce overall meat production.
Photo credit: Civil Eats
Global Communities Work Together to Address Food Sovereignty

On October 10th, seven farmers and farmworkers from the U.S. traveled to South Africa to participate in the 10-day Agroecology Exchange. Brought together by the 2014 Africa-US Food Sovereignty Strategy Summit in Seattle, US Food Sovereignty Alliance members WhyHunger (NY), Community Alliance for Global Justice (WA), Farmworker Association of Florida, and South Africa-based Surplus Peoples Project coordinated this Exchange. The delegates this year are from all over the U.S. including two from our own state: Edgar Franks of Community to Community Development in Bellingham, WA, and Dean Jackson of Hilltop Urban Gardens in Tacoma, WA. To learn about the history of the Exchange and their travels throughout South Africa, read the full article here.
Sonoma County Fires Drive Farmers off Land

The residents of Sonoma County, CA faced devastating and rapidly spreading fires this month. In addition to families evacuating and losing their homes, farmers and ranchers lost much of their livelihoods when the fires took over their fields. In many cases, farmers were forced to leave their crops unharvested in the fields, and those with livestock did not have the capacity to transport all of their animals off the land. The 2016 Sonoma County Crop Report estimates the value of its agriculture at close to $900 million. Read more about the impact of the fires on Sonoma County here.
The Food Waste Fad

You've heard us talk about food waste before and its environmental and social repercussions... but is it becoming a trendy topic to care about? Cutting food waste has suddenly become a dinner party theme among celebrity chefs, documentaries are being made about the topic, and Amazon has programmed Alexa to be able to tell you how to use your food scraps. A new film from Anthony Bordain highlights the issue of food waste around the world and provides shocking statistics to those who were unaware about how much food we waste globally. Is food waste a new problem? Absolutely not. But are we glad it is gaining publicity? You bet.

Read more about the documentary here.
"Fishy Fugitives" on the Loose

Two months later, about 100,000 "fugitive" Atlantic salmon remain unaccounted for in Washington waters. They have been found over 250 miles away from the location they escaped from, and are feared to pose a threat to the health and food supply of wild Pacific salmon. The Washington State DNR is expected to release their findings about how the fish escaped at the end of this year. In the meantime, they continue to swim far and wide. Read the full report here.
Bread Lab!

This month, we're previewing a book set to release this coming Spring: Bread Lab! published by our friends at Readers to Eaters. This fictional children's book is about a young girl discovering fun in the science of bread making. Inspired by the Bread Lab at WSU and written by its very own Kim Binczewski and Bethany Econopouly, Bread Lab! looks playful, educational, and sure to inspire some experimenting in the kitchen.



Q: What is the Good Food Agenda?
A: Last month we launched our state-wide action plan for reforming the food system in Washington State. Starting with five actions falling under four food system categories, which you can read about on our website, we are starting the journey towards a sustainable and equitable food system for all.
Have a food system question? Ask us! Email question@foodaction.com
If you made it to our Harvest Dinner last month, you got to enjoy the amazing food by Kaspar's, eclectic MOHAI event space, and dialogue with our food system expert panelists. What you may not have seen were the hours of preparation and consulting done by Veronica Foster and Chelsea Glaser, the co-founders of Thriving Communities Network. A big thank you to these ladies for their creative and meticulous work!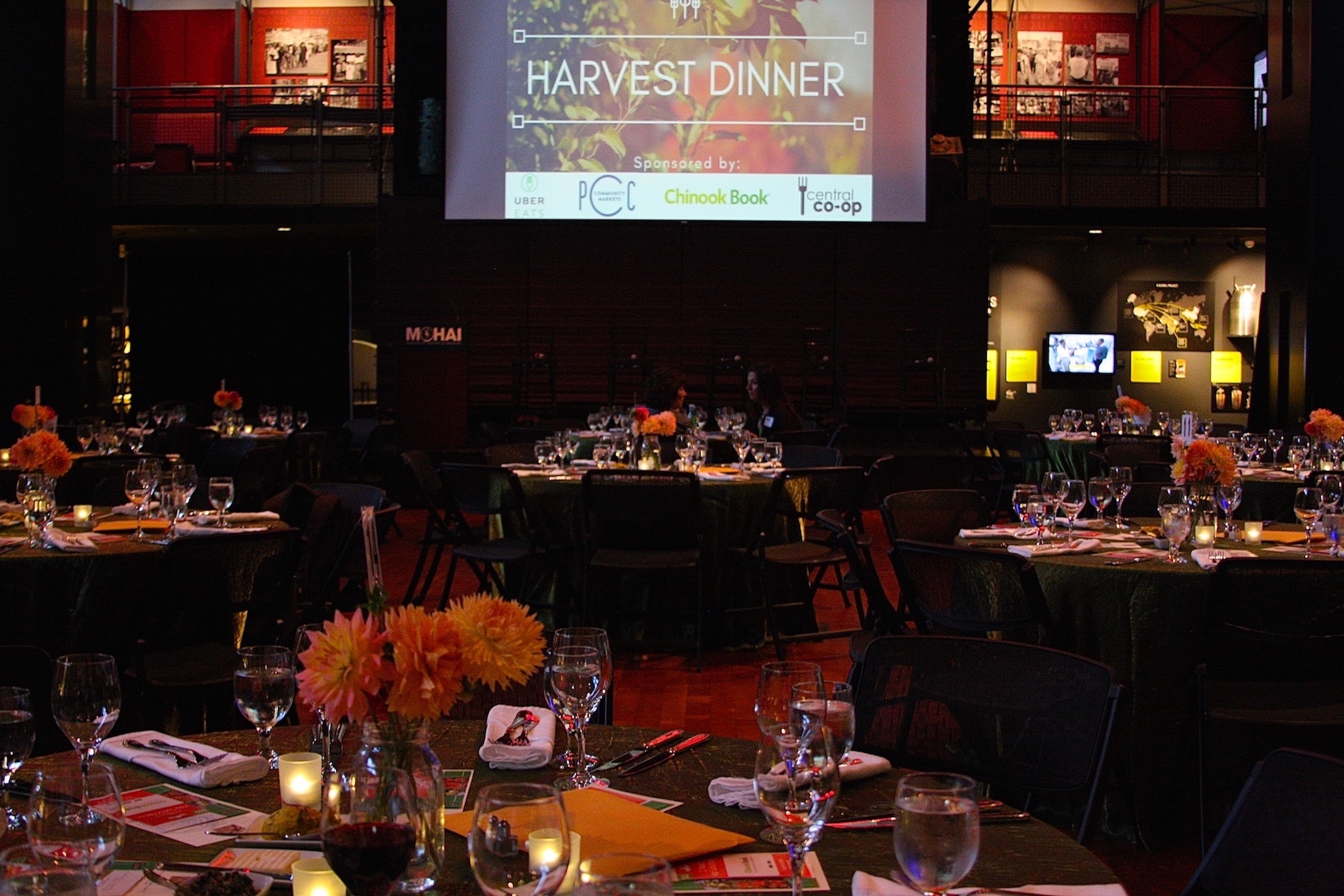 Photo credit: Anne Herman
Seattle's First Food Summit Save the Date
Saturday, March 17, 2018
Seattle University | Pigott Auditorium | Seattle, WA

Food Action is partnering with Food Tank and Seattle University to host the first Food Summit of the Pacific Northwest, focused on mobilizing conscious consumers for advocacy on food system change.
Check out other similar Food Summits that Food Tank has hosted around the globe here.