Monthly Newsletter September 2017
Food Action Updates
Faces of our Food System
Monthly Action

News You Can Use
Book of the Month
Monthly Question
Upcoming Events
September has been action-packed for Food Action! On Thursday, September 14th we officially launched our Good Food Agenda. At the launch Brady Walkinshaw spoke eloquently on the importance of integrated food system advocacy and action, and Valerie Segrest made a moving statement about the value of Salmon for the Pacific Northwest tribes and the importance of protecting them. The audience included a great representation of food system advocates across a wide range of focus areas and fields. There was strong momentum around the Food Bill in general, and the protection of Washington's waters from the introduction of GE salmon in particular (see our Monthly Action below for more!). It was also a great deal of fun, with tasty snacks and delicious drinks.
We are also getting ready for our major fundraising event of the year, our annual Harvest Dinner. Our location has moved to the Museum of History and Industry (the MOHAI) in downtown Seattle this year, but our dinner will still be prepared by world-renowned Chef Kaspar. Alongside a delectable meal will be the opportunity to engage with keynote speaker, Senator Rebecca Saldaña, and panel facilitator Ben Friedman, co-founder and CEO of Homegrown. It is an event not to be missed! There will also be a raffle with prizes donated by local businesses and organizations around the region. We hope to see many of you there.
Valerie Segrest
Muckleshoot Traditional Foods and Medicine Program Manager
Native Foods Educator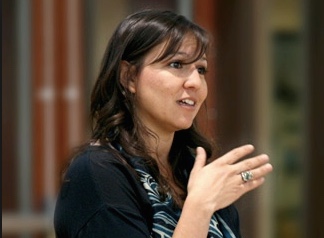 Valerie Segrest, an enrolled member of the Muckleshoot Indian Tribe, is a native nutrition educator specializing in local and traditional foods. She is also a leader in the food sovereignty and wild food movements here in the Pacific Northwest. In 2010, Valerie co-authored the book Feeding the People, Feeding the Spirit: Revitalizing Northwest Coastal Indian Food Culture. She has a Bachelor of Science in Nutrition from Bastyr University and a Masters Degree in Environment and Community from Antioch University. She is also a Kellogg Fellow with the Institute of Agriculture and Trade Policy and a PhD student at the University of Washington.
Valerie originally came to nutrition through her work with Muckleshoot Elders, supporting them with doctors' appointments, house cleaning and grocery shopping. "I got to see the whole picture of their health," Valerie told me, "their environment, what they were eating, how they were received at their doctors' offices, and how they were suffering from things that were totally preventable." Namely, diet-related disease. It was the elders in her community that encouraged her to go to school to study nutrition and tribal food and medicine. Valerie originally enrolled in Bastyr to study naturopathic medicine, "but I had a cup of nettle tea one day," she said, "and it all changed for me. I became a major advocate for wild foods."
In 2009 Valerie created the Muckleshoot Food Sovereignty Project, addressing the barriers and challenges that her tribal community faced in accessing traditional, local, and healthy foods. "We taught them about nutritional content, how to harvest honorably, how to fillet salmon and not waste," Valerie explained. "We also talked about the creation story of salmon." Valerie credits her inspiration from her great teachers, both in her community and from Bastyr, who combined a traditional nutrition education approach with the heart and the social aspect of food; "which are also important considerations to make when we talk about feeding people in a good way," Valerie noted.
When asked about the biggest challenge she sees facing our food system now, Valerie's answer was direct and clear: genetically engineered salmon. "Preventing GE salmon is our biggest fight," Valerie stressed with passion. "It's so important, and it's such a big task for us right now."
Interested in being a Food System Face or know someone who should be? Email us at foodsystemfaces@foodaction.com to nominate yourself or someone you know!
Last month, we asked you to support the Center for Food Safety's campaign to keep GE fish out of your grocery stores and restaurants. At Food Action we are taking the threat of GE salmon very seriously. In fact, we are working on a plan to prohibit them from ever being introduced in Washington State! The health and ecological risks are far too high to take the chance of allowing GE salmon in Washington's waters.
Please join us in the fight against GE salmon now by committing to oppose their introduction in Washington.
Are Pesticides Causing Diabetes for Farmers?

A recent report released by Gallup and Sharecare suggests that exposure to certain pesticides may lead to an increased risk of diabetes. In the study, various demographics and occupations were examined in relation to diabetes rates. The group working in "Farming, fishing and forestry" was reported to have the

second highest rate of diabetes

, second only to Transportation workers. Further, while Transportation employees reported poor lifestyle risk factors in general (smoking, obesity, lack of exercise), this was not the case for Farmers. These results, coupled with the 1993 Agricultural Health Study (AHS) , suggest that increased exposure to pesticides correlate with increased risk of diabetes. Read more here.
Food Insecurity Among Americans Holds Steady

The percentage of American households considered food-insecure has remained unchanged between 2015 and 2016, according to a new report from USDA's Economic Research Service. The ERS data shows12.3% of American households to be food-insecure 2016, slightly below the rate from the prior year. The continued prevalence of food insecurity across the country signals a need for increased support of programs like SNAP and WIC, which increase food access for the food insecure. View the report here.
New York City Offers Free Lunch for All Public School Students

With the goal of promoting food equity for children, New York City public schools will be offering free lunch to all their students starting this year. New York is not the first city to implement a free lunch program - Boston, Chicago, Dallas and Detroit all do so already - but NYC has far more students to feed than others. According to city officials, the program is not expected to have a high cost to the city. Enough families that qualify for benefits such as Medicaid have been identified that the city already qualifies for a federal program to supply free lunch to all students. See how the program works, and the differences it will make for students, here.
Global Leaders Dedicated to Carbon Sequestration

Breakthrough Strategies & Solutions has released a report based on their May 2017 conference 'Sequestering Carbon in Soil: Addressing the Climate Threat.' Soil carbon scientists, farmers, NGO leaders, government officials, private sector leaders, philanthropists, and advocates from thirty-four countries met to explore ways to advance soil carbon sequestration through agriculture and ecosystem restoration. The conference covered topics including improving global food security, removing carbon from the atmosphere, and adapting to current climate impacts. An already-promising outcome of the conference is the formation of a global network of leaders committed to building healthy soils. Read more here.
by Liz Carlisle

Lentil Underground

September is harvest time, and we've been thinking a lot about food producers. Liz Carlisle's Lentil Underground: Renegade Farmers and the Future of Food in America highlights sustainable food producers in a new way: as revolutionaries. The book introduces us to a movement of organic farmers in Montana who are growing heirloom seeds and creating new biologically diverse farm systems. This is not just a book about growing food, but about growing a food movement, with producers playing the starring role. "These farmers demonstrate how to build democracy and build soils at the same time. What a deal!" says Frances Moore Lappe, author of Diet for a Small Planet and EcoMind. Do we need a better endorsement than that? Check it out for yourself here.



Q: What's the deal with antibiotics in meat?
A: Livestock farming in the United States uses roughly 70% of all the antibiotics distributed nationally. Animals confined in high populations in small places require more antibiotics to control disease spread (just like people), and are often prescribed antibiotics as preventative measures. Antibiotics are also administered to animals for non-medical purposes in order to make them grow faster with less food. The problem is that bacteria evolve quickly and are very good at adaptation, creating antibiotic-resistant strains that do not respond to existing antibiotic regimens. This means that people who get sick won't have access to medical treatment, and that the health outcomes we take for granted (such as fighting basic infections) could become deadly. The Centers for Disease Control and Prevention (CDC) estimates that over 2 million Americans become sick with drug-resistant bacteria, and over 23,000 of them die, mostly children under the age of five. So, what we we do about it? Support the Preservation of Antibiotics for Medical Treatment Act in Washington to keep unnecessary antibiotics out of our farms. Or, if you can afford it, look for meat with USDA Organic certifications specifying that no growth hormones or antibiotics have been used. Better yet, support farmers who raise their animals on pastures or woodlands without using antibiotics.
Have a food system question? Ask us! Email question@foodaction.com
Thanks to all the wonderful food and beverage organizations around the state that donated to our Washington Food Bill Launch and Harvest Dinner. We love you!
Beecher's Handmade Cheese (Seattle)
Blue Heron Farm (Rockport)
Charlie's Produce (Seattle)
Chateau Ste. Michelle Winery (Woodinville)
The Essential Baking Company (Seattle)
Finnriver Farm & Cidery (Chimacum)
Golden Glen Creamery (Bow)
Hazel Blue Acres (Arlington)
Helsing Junction Farm (Rochester)
Holmquist Hazelnut Orchards (Lynden)
Lagunitas Brewery (Seattle)
The London Plane Flower Shop (Seattle)
Nash's Organic Produce (Sequim)
Olsen Farms (Colville)
Oxbow Farm (Carnation)
Pike Brewing Company (Seattle)
Ralph's Greenhouse (Mount Vernon)
Skagit Valley Food Co-op (Mount Vernon)
Swinomish Fish Company (La Conner)
Taylor Shellfish Farms (Seattle)
Harvest Dinner Tickets
6:30pm – 10pm | September 28, 2017
MOHAI - Museum Of History & Industry | Seattle, WA
Celebrate the Harvest with Food Action! Join us at MOHAI on September 28th for a local, organic and sustainably grown meal, prepared by world-renowned Chef Kaspar. Dinner will be paired with an engaging discussion about food systems with industry experts and community members. Join us for the opportunity to strengthen your community and support food systems sustainability. The evening will benefit Food Action in our mission to create a food system that is more healthy, just, and equitable.
Discounted tickets are now being offered for farmers, students and advocates. Additionally, all event attendees will receive a free Chinook Book subscription.
Seattle's First Food Summit Save the Date
Thursday, March 17, 2018
Seattle University | Pigott Auditorium | Seattle, WA

Food Action is partnering with Food Tank and Seattle University to host the first Food Summit of the Pacific Northwest, focused on mobilizing conscious consumers for advocacy on food system change. Check out other similar Food Summits that Food Tank has hosted around the globe here.
Save the date for Food Action's Seattle Food Summit now!